Dental Implants – Florence, NJ
Replace Your Missing Teeth with the Next Best Thing
Losing one or more natural teeth can have severe consequences not just on your self-confidence, but also on your general quality of life. You might lose the ability to speak clearly, chew delicious foods, and show off a confident smile. While traditional tooth replacements have helped countless patients enjoy complete smiles again, many people find them insufficient. Luckily, there's a truly revolutionary option that may help – dental implants.
Thanks to dental implants, we can replace your missing teeth with the next best thing. This solution delivers results that are more lifelike, lasting, and functional than conventional dentures and bridges. Our Florence Dental Studio team has partnered with the dental lab Finesse to provide outstandingly realistic tooth replacements that perfectly mimic the original. Ready to complete your smile? Contact us today to learn more about dental implants from our Florence, NJ dentist.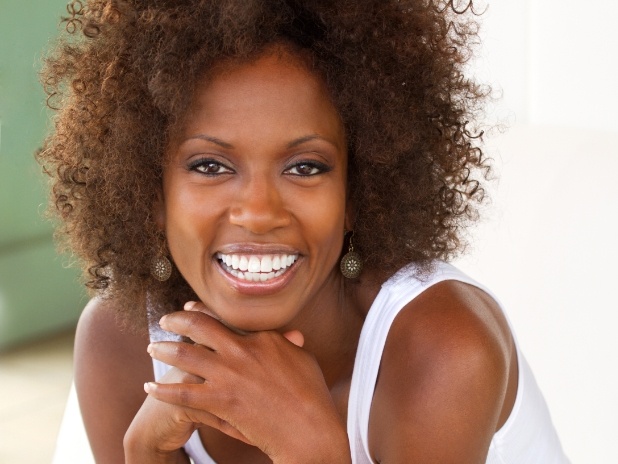 Why Choose Florence Dental Studio for Dental Implants?
Partnered with a Network of Dental Implant Specialists
Extremely Friendly Dentists Who Care About Patients' Overall Health
Fair Prices with
No Hidden Fees
What Are
Dental Implants?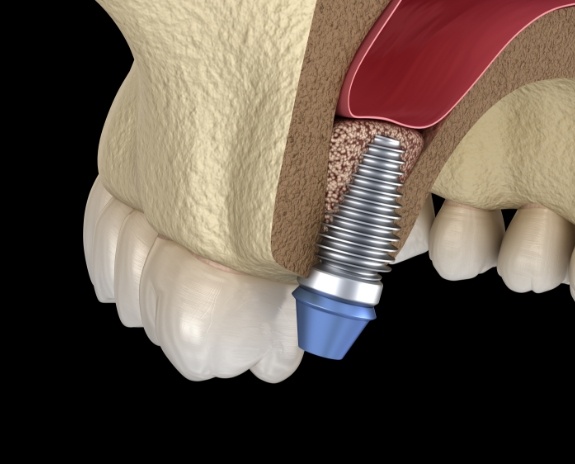 A dental implant is a small, cylinder-shaped post that is inserted directly into the jawbone during oral surgery. The post is usually made from titanium, but other biocompatible materials may be used. The key feature of a dental implant is its ability to fuse with the surrounding bone tissue in a process called osseointegration, so it essentially becomes the root of your new tooth. From that point, the implant can support a dental crown, bridge, or denture to recreate your lost pearly whites. When you reconstruct missing teeth from the roots up with dental implants, you end up with new teeth that are basically indistinguishable from the real thing!
The 4-Step Dental Implant Process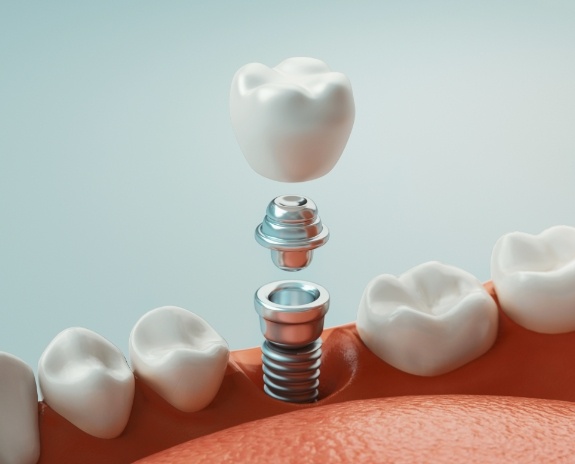 Compared to the majority of other dental treatments, the dental implant process is lengthier; it can span several months to a year or more. However, we're sure that once your new grin is complete, you'll agree that dental implants are worth the wait!
The treatment can be quite complex, so every patient's journey varies. In most cases, though, you can expect to go through these four basic steps:
Initial dental implant consultation – You'll meet with Dr. Joe or Dr. Dara to determine whether you qualify for dental implants and which, if any, preparatory work you need.
Dental implant surgery – A trusted local specialist surgically positions the implant posts within your jaw.
Dental implant osseointegration/abutment – The implants merge with your jawbone over the next three to six months. Then, metal attachments called abutments are secured to the tops of the implants.
Delivery of dental implant restoration(s) – You'll return to Florence Dental Studio, where we'll anchor your customized dental crown, bridge, or denture onto your abutments.
Benefits of
Dental Implants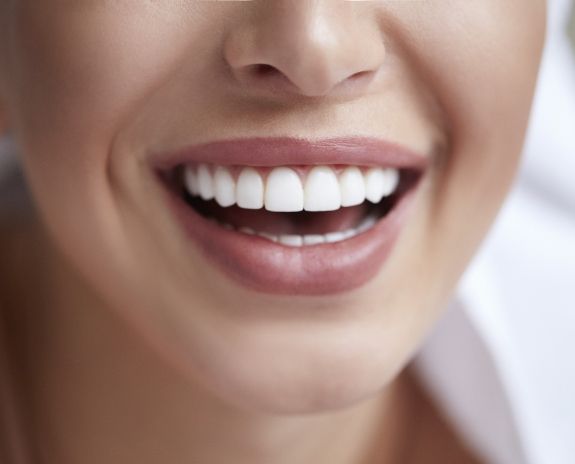 By recreating every part of a missing tooth, dental implants are able to deliver a plethora of benefits that dentures and bridges alone cannot. For example:
Like natural teeth, dental implants are firmly embedded in the jawbone. You'll be able to easily bite into your favorite foods without worrying about your teeth slipping.
While bridges require that some enamel is removed from healthy teeth, dental implants are completely self-reliant. This way, you can preserve your remaining natural tooth structure.
Dental implants are the only tooth replacement that stimulate the jawbone like real tooth roots do. Not only does this reduce the risk of additional tooth loss, but it keeps you looking young and vibrant for years to come.
With little maintenance beyond regular brushing, flossing, and dental checkups, you can expect your dental implants to last for 30+ years.
Who Dental Implants
Can Help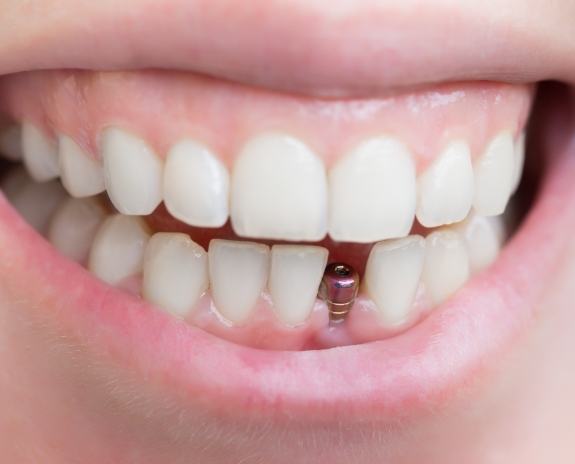 Are you an adult who is missing teeth and in decent health? If so, there's a strong chance that dental implants can help you! We'll need to examine your mouth and jaw and review your overall health during a consultation to be sure, but this treatment is so versatile that more patients than ever before are eligible. Depending on the number of teeth you need to replace, we'll create a custom treatment plan:
Missing One Tooth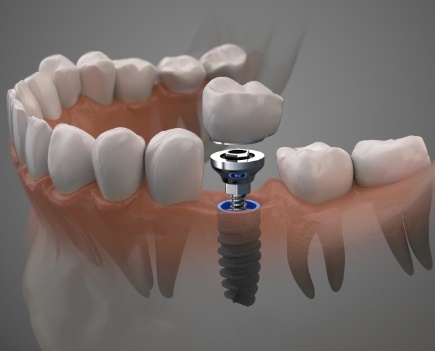 A single dental implant post can be vertically placed between two natural teeth without altering them in the way that dental bridges do. Then, we can attach a crown on top that seamlessly blends in with the adjacent teeth.
Missing Multiple Teeth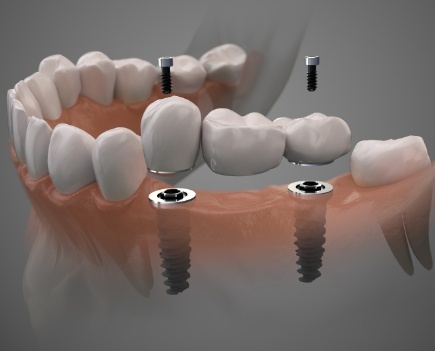 Instead of replacing each tooth with an individual implant, three or more teeth in a row can be brought back simultaneously by securing a dental bridge onto just two implants – each one placed at an end of the gap. For several gaps along the arch, a few expertly positioned implants can support a partial denture.
Missing All Teeth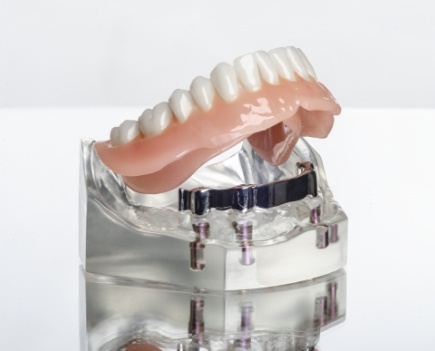 If you're frustrated with your current denture, you'll be happy to know that in many cases, four to eight implants are enough to anchor a full denture into place. Implant dentures, which can be fixed or removable, prevent slippage and make it easy to chow down on your favorite foods.
Understanding the Cost of Dental Implants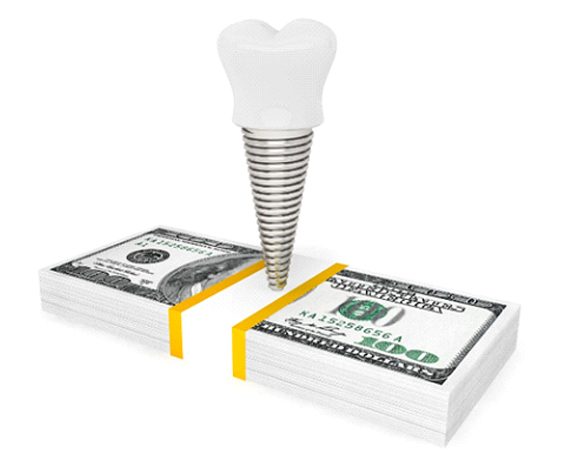 Because of the complex nature of implant treatment, the cost of dental implants in Florence can vary from one patient to another. While they initially cost significantly more than dentures or bridges, dental implants are actually one of the smartest investments you can make in your smile. Their longevity means you shouldn't have to spend money on frequent repairs and replacements, and their health benefits make them well worth the price. Our team can help you explore your options for making your new smile affordable – just give us a call to learn more!
Preliminary Treatments & Dental Implant Surgery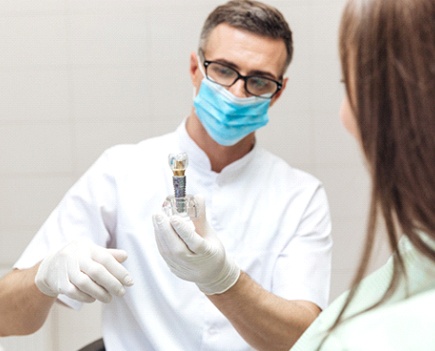 Depending on your unique situation, your implant dentist in Florence may recommend gum disease therapy, tooth extractions, or bone grafting before implant surgery. Preliminary treatments like these do add to your overall costs, but they help ensure the success of your new smile. Moreover, dental insurance typically provides some level of coverage for these treatments.
Implant surgery incurs a cost of its own, and it's normally affected by the type of sedation needed. At Florence Dental Studio, we partner with a network of dental implant specialists for this stage of the process. You can expect to pay a separate fee for your implant surgery.
The Parts of Your Dental Implant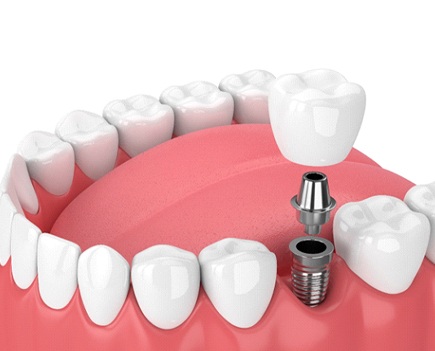 The overall cost of implants is affected by:
Number of Implants: Replacing one tooth with a single implant will logically cost less than replacing an entire row of teeth with multiple implants.
Type of Restoration: Crowns, bridges, and dentures each cost different amounts. Smaller restorations, like crowns, typically cost less than bridges and dentures.
Material: Implants are usually made out of zirconia or titanium, each of which has a separate cost.
Brand: Just like there are different makes and models of cars, there are different implant manufacturers as well. Feel free to ask where we are getting your implant as well as any brand specific benefits.
How Dental Implants Pay for Themselves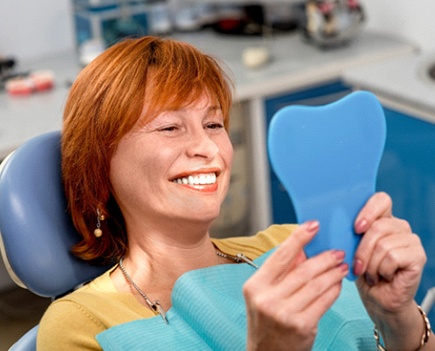 While dental implants have a larger upfront cost that traditional dentures and bridges, they are actually the more cost-effective choice in the long run. With proper care, dental implants can easily last for decades or even the rest of your life. You won't need to pay for replacements or adjustments every five to 10 years like you would with dentures or dental bridges. Likewise, you won't have to buy special pastes, cleaning solutions, or adhesives to take care of your dental implant. Implants' easy maintenance helps prevent gum disease, tooth decay, and jawbone deterioration, as well as the costs associated with treating these issues. So, if you're looking for the financially savvy option to restore your smile, look no further than dental implants!
Does My Dental Insurance Cover Dental Implants?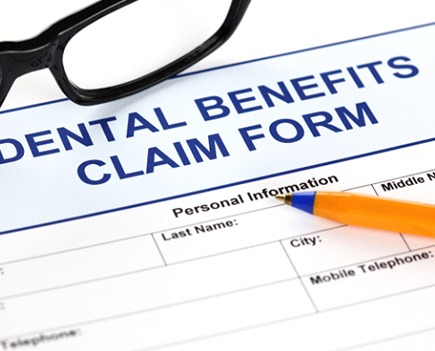 In general, dental insurance does not cover dental implants in Florence. However, there are some important exceptions. For example, insurance often covers costs related to preliminary treatments like gum disease therapy. A portion of the cost of your restoration may also be covered by your insurance. Our knowledgeable team will be happy to review your dental insurance policy to ensure we maximize your benefits.
Making Dental Implants Affordable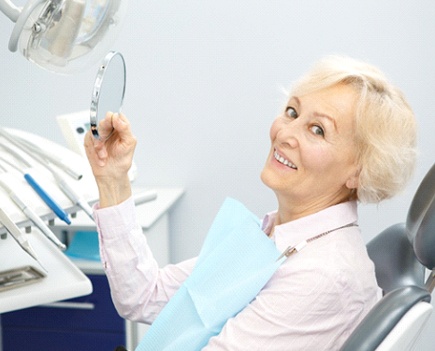 Even without dental insurance, there are plenty of ways to make dental implants affordable. One popular option is to take advantage of flexible financing through CareCredit or Sunbit. Instead of paying the full cost upfront, dental financing allows patients to pay for dental implants in smaller monthly installments. There are many different plans to choose from based on your personal financial situation. Many plans have little or even no interest at all!
You can also consider joining our in-house VIP membership plan to save money on implants. For just $200 a year, you'll get a 20% to 25% discount off of ALL of our services with no limit. Best of all, you won't have to deal with insurance-related hassles like deductibles, co-pays, or annual maximums.
Dental implants are a reliable and long-term investment in your smile. To learn more about the cost of dental implants in Florence and various payment options, schedule a consultation at our office.